Home
http://ccsymphony.com
---
Carson City Symphony was founded in 1984 as the Carson City Chamber Orchestra and gave its first concert in October that year. It is a community orchestra open to amateur and volunteer professional musicians. Members come from all walks of life and have ranged from elementary school students to senior citizens. The Symphony performs five or more concerts each year for audiences in Carson City. It also has performed in Minden, Gardnerville, Fallon, South Lake Tahoe, and Virginia City. We play many works by contemporary composers and have commissioned and premiered several pieces.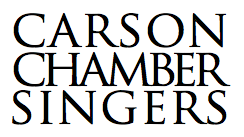 Carson Chamber Singers
---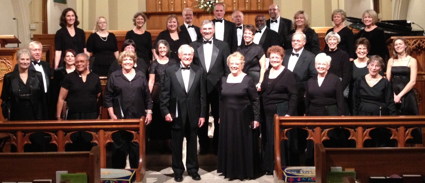 The Carson Chamber Singers, was founded in 1985 by Judy Monson as a performing group of the Carson City Symphony Association and was conducted by Michael Langham from 2012 to 2019. They are conducted by Bill Belcher. They have sung at several venues in Carson City, and in Reno, Virginia City, Minden, Genoa, Fallon, and Sacramento. They participated with the Symphony in the national 2000 Continental Harmony project, and sang at opening ceremonies for the 2005 Nevada Legislature, the 2006 National VFW Convention, and the 2007 and 2017 National American Legion Conventions. In 2010, Carson Chamber Singers premiered The Stars Above The Hill by David Dickau, commissioned in celebration of their twenty-fifth season. They have presented concerts in memory of Sandy Hook School victims, participated in the Northern Nevada American Guild of Organists' choir festival in Reno, and performed Artown concerts with the St. Cecilia Choir at Trinity Episcopal Church in Reno.
Carson Chamber Singers sang for several years with the Reno Philharmonic Chorus and Orchestra at the Sierra Philharmonic League's annual July 4 Pops in the Park concerts in Genoa, Nev. They also performed Vaughan Williams' Symphony No. 1, A Sea Symphony, with the Reno Philharmonic Chorus and Orchestra directed by Laura Jackson at the Pioneer Center for the Performing Arts in Reno in April 2014.
---

Carson City Symphony Chorus
---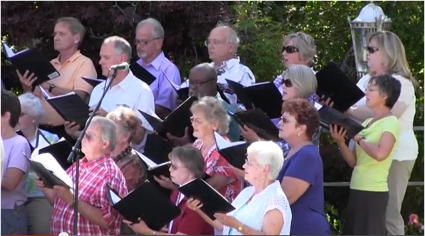 The The Carson City Symphony Chorus, an extension of the Carson Chamber Singers, formed in 2012 to provide additional opportunities for amateur and volunteer professional vocalists, and high school and church choir members from throughout the area, to sing with orchestra. It is open to all singers, high-school age through adults, without audition. They sang in the Symphony's "A Nevada 150 Concert" in October 2014, "Spring Celebration" in April 2015, and several subsequent concerts.
The Chorus performs in three or more concerts with the Carson City Symphony each year. They are featured on the Symphony's Holiday Treat concert in December, Pops Party concert in June, and Genoa Americana Celebration on July 4.
Carson City Symphony Chorus, above, performing on a June "Pops Party" Concert.
---
Rehearsal information
The Carson Chamber Singers and the Carson City Symphony Chorus normally rehearse Tuesday nights (except during the summer) at Carson High School, 1111 N. Saliman Rd., Carson City, NV, in the choral room on the second floor. Enter by the front entrance to the school on Saliman Rd. For a map showing the rehearsal location and some performance locations, please click here.
---
Bill Belcher
Conductor, Carson Chamber Singers and
Carson City Symphony Chorus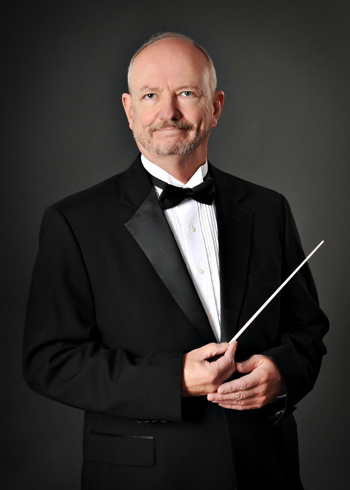 Bill Belcher was appointed conductor of the Carson Chamber Singers and the Carson City Symphony Chorus by the Symphony Association Board on Sept. 15, 2019.
Here is a short biography of Mr. Belcher, as provided by him:
B.S. degree in music, University of Oregon School of Music and Dance
Main area of performance study - voice, baritone.
As an undergraduate, was accepted into the conducting study program under the late Max Risinger. I actually majored in conducting, except there was no official undergraduate conducting degree program, and there is still not one, therefore the general "music" degree. I was one of only 12 allowed into the program that year. In a normal year, only 10 students were admitted to the program. I completed the yearlong program, focused on symphonic conducting, successfully. Chorister with the University Singers (the University's premiere large choral ensemble), directed by Max Risinger.
Recent activity:
2016-2019 - Chorister and acting back up rehearsal director for the Eugene Gleemen, Eugene, Oregon. Varied repertoire from classical to pop music under the direction of Dr. John Jantzi.
2012-2016 - Chorister and acting back up rehearsal conductor for Trinity Repertory Singers (University community choir), Simpson University, Redding, California. Unofficial understudy with both Dr. Hoffman Pereira, and Dr. Cyril Myers. Repertoire included classical compositions and some Christian or secular selections.
2005-2016 - Choir Director at the Oak Grove Bible Fellowship Church, Palo Cedro, California. Conducting, coordination, and music selection responsibilities for choir. Conducted one major Christian cantata, and mentored/rehearsal directed for one more. Repertoire mainly religious, including classical, standard and modern genres.
2003-2012 - Chorister with the Shasta Chorale (Shasta community choir), Shasta College, Redding, California under the direction of Dr. Elizabeth Waterbury. Mixed repertoire, mainly classical.
Photo: Bill Belcher, Conductor, Carson Chamber Singers.
---
Registration information
A registration form for Carson Chambers Singers and Carson City Symphony Chorus is available. Click here to download the form.
For more information about Carson City Symphony Chorus and
the Carson Chamber Singers, call the Symphony Association
at 775-883-4154 or contact EHBugli@aol.com
This page last updated 12/11/2019