Home
http://ccsymphony.com
---
Carson City Symphony was founded in 1984 as the Carson City Chamber Orchestra and gave its first concert in October that year. It is a community orchestra open to amateur and volunteer professional musicians. Members come from all walks of life and have ranged from elementary school students to senior citizens. The Symphony performs five or more concerts each year for audiences in Carson City. It also has performed in Minden, Gardnerville, Fallon, South Lake Tahoe, and Virginia City. We play many works by contemporary composers and have commissioned and premiered several pieces.
Carson City Symphony - Sue Jesch,
Education Director and former Concertmaster
---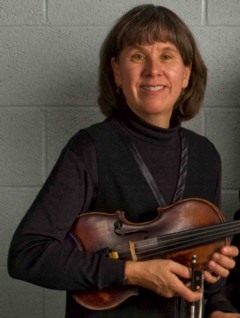 Sue Jesch - Former Concertmaster and current Education Director Sue Jesch has taught violin and viola and performed professionally for more than thirty years. She began playing in the Carson City Symphony when she moved to Nevada in 2004, and she became founding director of the Symphony's successful Strings in the Schools and Strings in the Summer programs in 2005. She is recipient of the 2011 Nevada Governor's Arts Award for Leadership in Arts Education.
Sue Jesch began her formal music instruction at the University of Minnesota, Duluth, and went on to become part of its music faculty, serving as Director of the Preparatory School in Strings. She studied violin performance and pedagogy extensively in Oxford, England, with internationally acclaimed string teacher and lecturer, Kató Havas, author of A New Approach to Violin Playing; Stage Fright, Its Causes and Cures; and other instructive books and videos. Ms. Jesch presented a paper, "A New Approach to Practicing," at the 1990 "Playing Less Hurt" Conference in Minneapolis, Minn. She is accredited as a representative teacher of the New Approach.
Ms. Jesch has played professionally with the Duluth Superior Symphony, the Lake Superior Chamber Orchestra, and the University of Minnesota, Duluth, String Quartet. She served as concertmaster of the University of Minnesota, Duluth, Symphony Orchestra and the Oklahoma Community Orchestra.
In Nevada, Sue Jesch has been principal viola of the Carson City Symphony, concertmaster and principal viola of the Ruby Mountain Symphony, and member of the Foundation Orchestra, the Carson Valley Pops Orchestra, and the Silver Strings, Sierra Strings, and other chamber music groups. She also has played fiddle with the Celtic-inspired folk group Gáirín.
Ms. Jesch teaches violin and viola privately in her private studio in Carson City. She also led Carson City Symphony's Not Quite Ready For Carnegie Hall Players, a string ensemble for adult beginners, and STRAZZ youth strings jazz ensemble.
This page last updated 10/1/2021